PowerBasics
The proven high school texts for struggling learners
Contact us
The Power Basics Series
Trusted by educators across the nation
Shop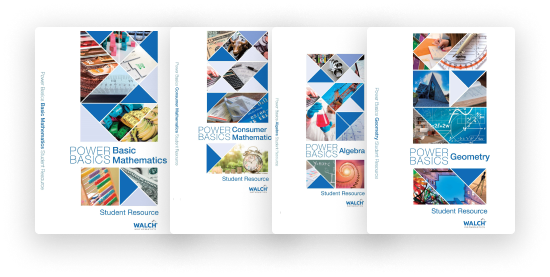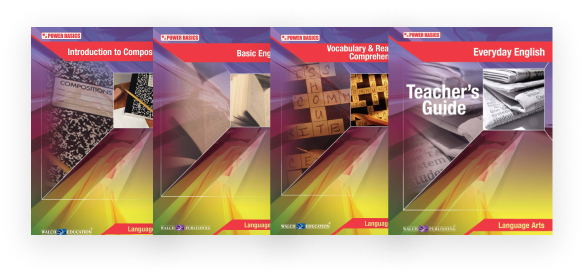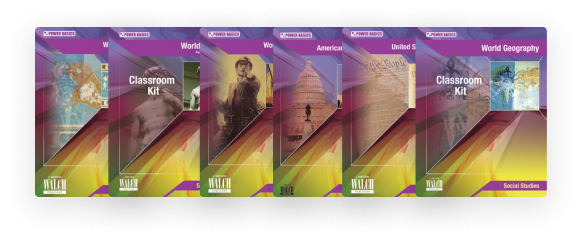 School-to-Career
A Power Basics School-to-Career course is also offered to help students think and plan for their future.
Go to our catalog to see Program Overviews, Lesson samples, and to purchase
Shop
Each program has the following components:
The Student Text

Focuses on one concept at a time, with ample practice to achieve proficiency and mastery.

The Teacher's Guide

Provides an overview, strategies for differentiation, extension activities, forms, and graphic organizers.

The Student Workbook

Extends and enriches the Student Text with critical-thinking and cooperative-learning opportunities.

The Test Pack

Provides assessments and test-taking strategies.
Package options include:
Student Workbook 10-pack: 10 Student Workbooks
Singles Pack: 1 Student Textbook, 1 Student Workbook, 1 Teacher Guide, 1 Test Pack
Classroom Kit: (Binder) 1 Student Textbook, 1 Student Workbook, 1 Teacher's Guide, 1 Test Pack (all reproducible)
Classroom Set: 10 Student Textbooks, 1 teacher' s guide, 10 student workbooks, 1 test pack.
This program is ideal for the struggling learner
Special Education
Students-at-Risk
Remedial Education
Differentiated Education
Credit Recovery
Shop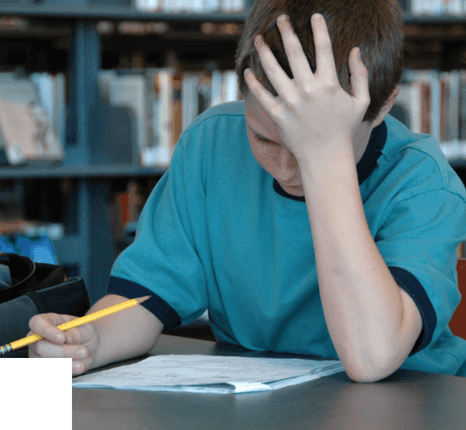 Built to support the struggling learner
Considerate text
Power Basics uses "considerate text" to present content in a way that helps students understand, retain, and use the content in the classroom and beyond. For text to be deemed "considerate," it must have an accessible reading level. New vocabulary must be highlighted and clearly explained, as learning new vocabulary is essential to processing new information. Considerate text must also be organized appropriately for the audience. Power Basics is structured to maximize comprehension.
Coherence
Power Basics content and design contributes greatly to the program's coherence. No background knowledge is assumed. This levels the playing field for all students in the differentiated classroom. Plus there are several features that contribute to the coherence of the text, such as heads and subheads, short, manageable lessons, clear examples of concepts, frequent opportunities for practice, and ongoing assessment.
Mini content lessons
One of the most important features of Power Basics is that each book has been divided into short, manageable sections with directly stated main ideas. Each section begins with an explicit learning goal and a list of words to know that students will encounter in the lesson. A brief practice activity follows each section of text. These practice activities are frequent, and help reinforce what students have just read. Brief activities are less overwhelming than long practice activities often found in traditional textbooks.
Controlled reading and text structure
To ensure access for diverse learners, Power Basics uses a combination of controlled reading level and text organization to facilitate understanding. Sentences use simple structures and the active voice. Ideas follow logically from one sentence to the next, and linking words are used to show relationships among ideas.
Key terms
Each lesson introduces key terms needed to understand the lesson content. These key terms are listed at the start of the lesson, appear in boldface type the first time they are used, and are clearly defined in context, using familiar words and concepts to explain the new terms.
Essential concepts
Each lesson in Power Basics introduces a few essential new concepts, and elaborates on them to make them understandable to learners. Power Basics provides clear examples for each idea presented. Power Basics also contains explicit transitions from one topic to another.
Meet the Author
Providing accessible educational resources so that ALL types of learners can thrive is one of our core principles. In efforts to build on our vision, we partnered with Robert Taggart, Ph.D., the author of the Power Basics to publish the series. Purchase the Power Basic resources at our online shop or through one of our many resellers.
Robert Taggart, developed Power Basics specifically to address the needs of students not well served by traditional strategies and texts.
Dr. Taggart was the founder and president of the nonprofit Remediation and Training Institute in Alexandria, Virginia, and a former research professor at Howard University, where he headed the Howard University Opportunity Institute.
He has also authored twenty books and monographs on diverse topics, including job-training strategies, economic development, and the importance of basic skills.