Learning Math with EMPower™
Helping adults build a conceptual understanding of math
Contact us
EMPower Series
EMPower™ is a series of seven titles that addresses the tremendous need adults have for a more solid math foundation upon which higher level math can then be built. EMPower helps adults develop mathematical proficiency to more effectively engage with the world, whether that be at work, at home, in the community, or as they seek high school credentials and further education and training.
Books can be purchased à la carte and mixed and matched for your program's needs.
Preview Program Overviews and lesson samples for each title at our shop.
Shop
As education professionals, we know that math is more than memorization
Proficiency begins by understanding the concepts and building on them step by step.
EMPower is an innovative math series developed by TERC, designed by educators and field-tested in adult education classrooms. The lessons in EMPower teach and reinforce the eight mathematical practices described in the U.S. Department of Education's College and Career Readiness Standards for Adult Education.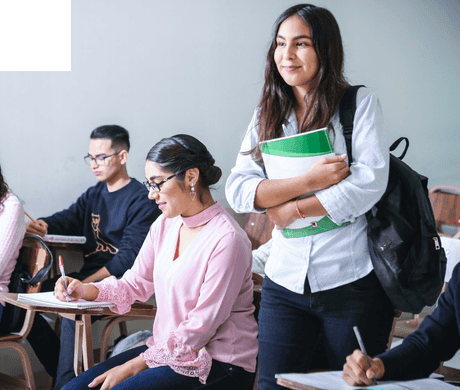 Why choose EMPower?
EMPower challenges students and teachers to consistently extend their ideas of what it means to do math. The entire series promotes conceptual understanding rather than just procedures and rules. It was designed to help adults and adolescents experience math as more than just classroom lessons and instruction.
EMPower helps students better understand and manage the mathematical demands of day-to-day life. The skills students develop through using EMPower help them engage with math more meaningfully at work and at home. EMPower provides the solid conceptual understanding necessary for students to succeed as they seek a high school credential, college degree, or advanced job training.
The Four Pillars of EMPower
Content
EMPower reimagines 'the basics' by presenting math in the context of contemporary life and work demands. Adults learn to apply number sense, estimation, and problem-solving skills to real-world situations.
Sequence
Algebraic, statistical, and geometrical ideas are developed alongside foundational number sense instead of waiting halfway through or until the end of a book.
Andragogy
EMPower encourages a learning community rooted in collaboration—students share strategies and results from their investigations.
Teacher Support
Educators need tools to set students up for success. EMPower's teacher books provide instructional support, math background, tactics to make lessons more or less challenging, and sample lessons to develop a more engaging learning experience.
Learning with EMPower
EMPower helps educators and students:
Explore ideas through open-ended investigations
Engage in activities that relate to their lives
Apply mathematics to everyday situations
Investigate concepts
Develop connections within math topics
Collaborate and share ideas verbally and in writing
Discover multiple problem-solving methods
See relationships between situations, graphs, tables, and equations
Our Partnership with TERC
In Walch Education, TERC found a partner that not only could handle printing and distribution of the books, but that also had a learning management system (LMS) that could make an online EMPower experience a reality...
Continue reading